Georgian Snowboarder 5th in Int'l Ski Federation Competition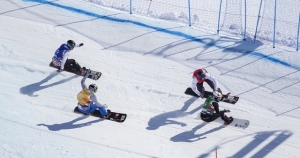 The Georgian snowboarder Jaba Skhvediani came in fifth place at the International Ski Federation´s (FIS) competition in the Russian city of Sochi.
25 athletes from eight different countries took part in the FIS Snowboard Slopestyle EC race hosted by Sochi from 26 to 28 of March. Skhvediani, who raced for Georgia, was among the eight finalists.
The Georgian athlete continued a successful season after claiming a top spot in the FIS competition in Kobaonik, Serbia, in January. Other recent entries included the FIS slopestyle at Switzerland Glacier 3000 and the Europa Cup contest in Landgraaf, The Netherlands. Skhvediani also competed in the World Snowboard Championship in Sierra Nevada, Spain, and in the World Championships Qualifying rounds.
By Lisa Maier

Photo Source: agenda.ge

30 March 2019 17:37