Criminal Proceedings Launched against Karate Federation President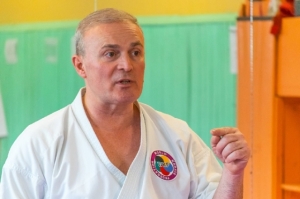 The Anti-Corruption Agency of the State Security Service (SSS) has launched criminal proceedings against Kakha Basilia, President of the National Karate Federation.
SSS reports that the criminal proceedings were raised on the fact of misappropriation of state-owned money in large quantities through fraud by misusing his official powers.
The agency says that the investigation established that on April 18-22, 2018, the Ministry of Culture and Sport allocated funding to ensure the participation of the members of Georgian National Karate team at 9th Championship of Shotokan that was due to take place in Istanbul, the Republic of Turkey.
"Despite the fact that four sportsmen participated in the competition, on 27 April and 28 May, 2018, the president of the Georgian National Karate Federation presented fake documents to the Ministry of Culture and Sport that 10 Georgian delegates had been sent to the championship held in the Republic of Turkey," the SSS says, adding the misappropriated funds of the Ministry of Culture and Sport amounted to GEL 10,441.
Basilia was accused under Article 180, Paragraph III, sub-paragraphs "A" and "B" of the Criminal Code of Georgia for the committed crime, which envisages from 6 to 9 years of imprisonment.
The accused says he is innocent, adding this is an attempt to "discredit him and the Karate Federation."
"They made me pay GEL 15,000 bail…I do not understand why. Do they think I am narco-baron or a businessman?" Basilia stressed.
The trial will take place on May 29.
By Thea Morrison
09 April 2019 11:33