Georgian Beach Wrestlers Win 4 Golds in Brazil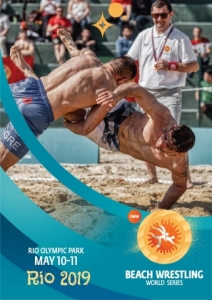 Georgian athletes have won four gold medals at the Beach Wrestling World Series (BWWS) held in Rio de Janeiro in Brazil from May 10 - 11.
Davit Khutsishvili (80kg), Davit Marsagishvili (90kg), Mamuka Kordzaia (+90kg), and Levan Keleksashvili (70kg) performed excellently in the competition. The event organizers said that they were "on the top of their wrestling."
Beach Wrestling takes place on sand and combines all wrestling styles, including sumo. The first world championship took place in 2006 in Antalya, Turkey.
The Georgian athletes will compete in two more tournaments in order to qualify for the 2019 ANOC World Beach Games in San Diego in the USA in October 2019.
By Amy Jones
Photo source - United World Wrestling
13 May 2019 09:16