5 Interior Ministry Employees Win Gold at Powerlifting World Championship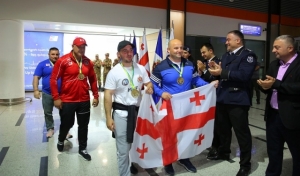 5 Georgian employees at the Interior Ministry returned home from the powerlifting championship in Lutsk, Ukraine on 19 May. The employees brought back 6 golds for Georgia.
The employees are Teimuraz Gogoladze from the Special Tasks Department, David Joidze from the Building Protection Department, Ramaz Gabaidze from the Border Police Department, Koba Kobakhidze from the Ministry of Internal Affairs Patrol Police Department, and Shalva Bebiashvili from the Strategic Pipelines' Protection Department.
Over 500 athletes from 25 countries participated in the championship, the 29th of its kind. The winners were greeted by friends, family and their supporters at Tbilisi airport upon returning to Georgia.
By Amy Jones
Photo source - Interior Ministry of Georgia
22 May 2019 00:36