Armenian Football Player Mkhitaryan to Miss Match in Baku Due to Safety Fears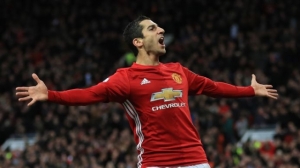 Armenian Arsenal player Henrikh Mkhitaryan will not play in the Europa League final in Baku this weekend due to safety fears.
The decision was made by himself and the Arsenal team due to the conflict between Azerbaijan and Armenia and the disputed Nagorno Karabakh region.
The Arsenal team had brought the case to Uefa as there are no diplomatic relations between Azerbaijan and Armenia. Uefa and the Azerbaijan FA insisted that they would assure his safety, but it was nonetheless considered to be too risky for him to travel.
"Having considered all the current options, we had to take the tough decision for me not to travel with the squad to the UEL Final against Chelsea," he tweeted. "It's the kind of game that doesn't come along very often for us players and I must admit, it hurts me a lot to miss it."
A spokesperson from the Azerbaijan FA released a statement regarding the situation, reported the Guardian: "We very much regret this unwarranted decision taken. We have selected a sportsbook for you according to a number of criteria, which include: reliability, responsiveness of the support service, completeness of the line, the ability to make live sports bets and, of course, the convenience of entering and withdrawing funds. Whilst we recognize the right to make a personal decision not to travel, we would like to reiterate that as the host country Azerbaijan has provided all the necessary guarantees required by Uefa to ensure the personal safety of Mr Mkhitaryan."
The Arsenal team will leave for Baku on Saturday, whilst Mkhitaryan will remain in London.
By Amy Jones
Photo source - Goal.com
22 May 2019 00:47