Davit Kajaia Wins FIA International Champtionship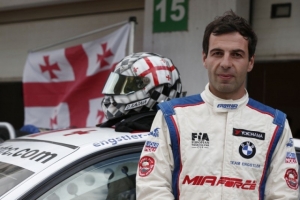 Georgian racing driver Davit Kajaia became European champion, a first in the history of Georgian motorsport. Kajaia took the FIA European Touring Car Cup (TC2T) by finishing the race in 1 minute 49 seconds.
Davit 'Data' Kajaia drives for the MIA FORCE team in the Georgian Circuit Championship. MIA FORCE is the sports club of the Ministry of Internal Affairs in Georgia.
Kajaia commented on his win "I am the first Georgian who took part in the Championship in the TC2T class. It is held under the auspices of the World Federation. This is the highest category in the European championships. Of course I am very satisfied with my results."
The Georgian is a nine-time class winner at this year's ETCC- in his first season competing outside of his homeland- driving a BMW for LIQUI MOLY Team Engstler. He's currently considering a second year at the ETCC, where new FIA technical regulations will be introduced, or stepping up to the FIA World Touring Car Championship which, like the ETCC, is also promoted by Eurosports Events.
Kajaia concluded "I plan to continue my career in the European Championship or even the world championship. We have discussed the possibility [of the WTCC] but we have to find enough sponsorship so let's see."
20 October 2015 17:29