Group Phase Matches of FIBA EuroBasket to Take Place in Georgia in 2021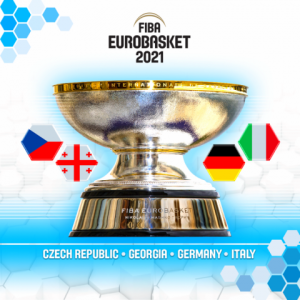 Along with Czech Republic, Germany and Italy, Georgia will also host the 41st edition of FIBA EuroBasket in 2021. The Group Phase matches are scheduled to take place in Georgia. The relevant announcement was made by the FIBA Europe Board on July 15 in Munich, Germany.
Seven countries in total were participating in the bidding process for obtaining the permit to host the event: Georgia, Estonia, Germany, Czech Republic, Slovenia, as well as Hungary.
The event in Munich was attended by Salome Zurabishvili, President of Georgia, Elguja Khokrishvili, Ambassador of Georgia to Germany, Paata Guraspauli, President of Georgian Basketball Federation, Vladimir Boisa, Vice President of the Georgian Basketball Federation, as well as Tornike Shengelia, Captain of the National Basketball Team.
Salome Zurabishvili addressed the audience and presented a video about Georgia, noting that country is ready to host FIBA Europe games in 2021.
By Ketevan Kvaratskheliya
Image source: Georgian Basketball Federation
16 July 2019 10:49