Georgian Strongman Dies in Car Accident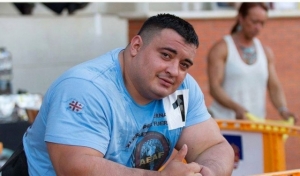 Giorgi Doinjashvili, a Georgian strongman and one of the entitled leaders of the Georgian Strongmen team, died as a result of a car accident in Kharagauli, Georgia, reports the Georgian Strongman and Mass-Wrestling Federation.
The Federation has offered condolences to the family and friends of the sportsman on this great loss.
An investigation into the case has been launched in accordance with Section 6 of the Article 276 of the Criminal Code of Georgia, involving violation of traffic safety regulations by passengers, pedestrians or other participants of traffic that results in less serious or serious bodily injury.
By Ketevan Kvaratskheliya
23 July 2019 13:25