The Success of Georgian Young Wrestlers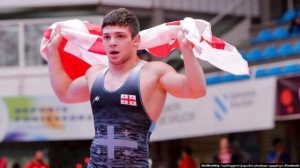 A member of Greco-Roman Style Georgian Wrestlers Youth team, Giorgi Shotadze has doubled the gold prize at the end of 2019 season.
The wrestler in 67 kg category has just added the title of a world champion to his name, doubling his gold medals since the European Championship that he won a month ago.

Tallinn hosted the season's biggest event from 12 to 18 of August. Georgian team comes back to the motherland with one gold and two silver medals.

The team members Leri Abuladze (63 kg) and Giorgi Kacanashvili (87 kg) fell a step behind the tremendous worldwide success. Abuladze ended both, European and World Championships in silver. As for Kacanashvili, he came the third at this year's European Championship.
On his way to the finale, Giorgi Shotadze defeated 4 fellow participants: Aleksander Juliusz MIELEWCZYK (POL; 11:0), Xin HUANG (CHN; 8:0), Vladyslav KRAVCHENKO (UKR; 9:1), and Peyton Louis OMANIA (USA; 7:0). In the final battle for champion's crown Shotadze won against Shant KHACHATRYAN (ARM; 6:3).




By Nini Dakhundaridze
19 August 2019 18:19