Georgian Judoka Lukhum Chkhvimiani Becomes World Champion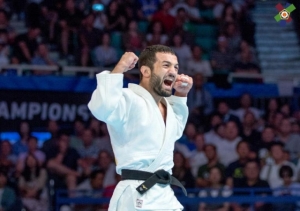 Georgian judoka Lukhum Chkhvimiani has achieved a historic success by winning the World Championships Senior 2019 in Tokyo, Japan.
Chkhvimiani (Born 3 May 1993) became World Champion in 2019 in Tokyo against Lutfillaev (Uzbekistan), as fourth Georgian ever.
Ckhvimiani told the International Judo Federation that winning a gold medal is like a "dream come true" for him.
The Japanese capital of Tokyo is hosting the World Championships Senior 2019 on August 25-31.
"However, the European torch was carried high into the final by Lukhumi CHKHVIMIANI (GEO). It was not an easy road to the final for the Georgian, having to repeat his European Games final against Francisco GARRIGOS (ESP). The contest ended in golden score with a waza ari for CHKHVIMIANI", reports the official website of European Judo Union.
In 2019, Chkhvimiani captured European Games gold in Minsk. He won the Grand Prix of Tbilisi in 2017. He captured four Grand Prix medals. As a cadet, he won bronze at the European U17 Championships and EYOF in 2009. He took a bronze medal at the Grand Slam in Düsseldorf in 2018 and 2019 and gold at the Grand Prix in Tbilisi in 2018 and 2019.
Photo: European Judo Union/Facebook
By Ana Dumbadze
26 August 2019 10:36