Georgian wins Rugby Europe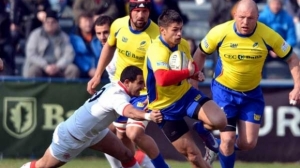 After the narrow European championship victory by Romania last year, scoring the same points as Georgia but defeating the Lelos in the one-on-one match, Georgia's national rugby team won this year's championship last night.
It was a sweet victory, as the final opponent was again Romania, this time, however, Romania was beaten by 25-16 in a nerve-wracking game at the Dinamo Arena, Tbilisi. The best player of the match, Koki Tkhilaishvili, has led the team to its fifth victory in the championship, taking the trophy home unbeaten this year.
The team was dominating the game over the majority of the time, but the Romanian squad was quick on their feet making the scoring of tries a difficult task, but succeeding eventually. Similarly to the recent games against Russia and Spain, the defense line of the Lelos successfully closed all gaps and hindered Romanian players to push through energetically.
The game sparked also some political upheaval as the Georgian national team demonstrated solidarity with Archil Tatunashvili printing his name onto their t-shirts. Tatunashvili was detained on February 22 together with two other Georgian nationals in Akhalgori. The next day his death was reported by the occupying authorities stating only opaque reasons. Until today, the Georgian government calls for a complete explanation for his death doubting the official version.
By Benjamin Music
Check out amazing Arab porn sex on sexsaoy.com . Click
here
and enjoy.
19 March 2018 15:49