Tennis Player Nikoloz Basilashvili Continues his ATP Ranking Progression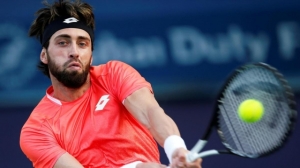 Nikoloz Basilashvili is now number 18 in the world's Association of Tennis Professionals (ATP) ranking. He has just defeated the Spanish Roberto Bautista Agut (6:7,6:4,6:3) at the Dubai Tennis Championships, and replaced him in the ATP position. It looks like the 27-year-old Georgian player will not stop his ascent for now. After having been ranked 20th in January, he has just earned two places with a total of 1865 points. It is the higher score any Georgian player ever achieved in the independent Georgian Republic.
What is particularly impressive is the very quick progression of the national athlete since he was only at the 35th place of ATP ranking last July.
We wish him good luck for his next competition in California, hoping the will be able to keep his position.
By Gabrielle Colchen
Image Source: thenational.ae
Related article: Nikoloz Basilashvili Kicks off Australian Open with Two Victories
04 March 2019 18:33